Last Thursday
Amelia
decided to help me achieve my summer's goal of visiting Cottage Grove, a small town not very far away. Of course, we stopped at Goodwill on the way being the (delightfully) greedy bratz that we is. Did I mention my hair was still huge from the last day?
[[Not sure why it's taken me a week to post this-- I have a bit of a problem with procrastination. Any advice?]]
I can't help but seek out cute mugs. They represent something so comforting and cheerful first thing in the morning or right before bed. Also, I like to imagine all the conversations
and
moments of quiet contemplation the average mug witnesses during its lifetime.
Thrifting 101: Look everywhere, just be quick about it if you can.
Cottage Grove itself was super charming, especially this beautiful historic armory building.
These children were sorta following us and we accidentally taught them to bark at passing cars.
Seriously folks, children are wonderful fashion icons. Also going to state now for the first, but not last, time that I for realz want an adult tricycle with chopper-style handlebars.
In case you couldn't already tell, I was channeling Priscilla Presley that day.
*vintage ray-bans: thrifted
*skirt: from 10 years ago
*vintage cowboy boots: thrifted (Virginia)
*world's most amazing 70s hand-painted shirt: an incredibly generous gift from Georgia
In love with the many varied details in the concrete of this 1931 beauty. And acting silly...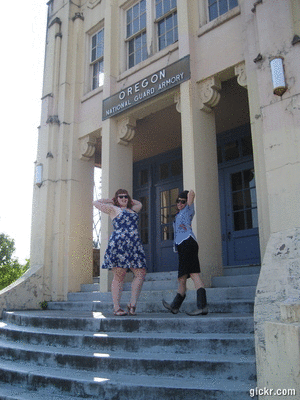 moving on...
Much nicer than your average "meat market", har har.
And lastly...
Thanks for your visit everyone,
heart
--m