I've never quite understood what it means when blog titles start out that way, do you?
Anyways, as promised, to make up for slacking off in the past, I'll be posting once a day all week starting today.
So here is what I wore to my graduation ceremony (no real diploma just yet... thesis awaits me....)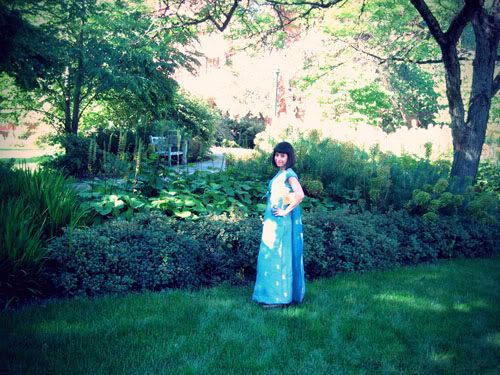 In my greatest dreams, I am a Bollywood star so I always take the opportunity to channel that energy whenever I can. This dress is actually a "polynesian original" made in Hawaii, but people kept asking if it was Indonesia or Indian. I wore it once before to my undergrad ceremony too, you see, but somehow there were no photos taken of me that day. Oh well.
*Vintage 60s or 70s dress: thrifted in Va a few years ago.
*Sandals and bag: hand me downs from Mom
And here's the prettiest part, the back. I've heard (from Susan Sommers on QVC 15 years ago) that people actually look at you more from behind than in front since they're allowed to stare. Not sure if that is true or not, but I believe in dressing like it is then trying to catch people in the act.
Okay, see you tomorrow!
heart
--m