I'm hoping to feature more classic cars on this page. You all know I love them! In the meantime, I've digitized a bunch of vehicular ads and articles for a Flickr set (click):
I'd love your comments on these and I hope they will inspire you.
To help celebrate, here are some vintage babes, wheels and motors from Mecanix Illustrated. (click for larger views; titles indicate issue date)
Did you know I love poodles? Especially 50s poodles.
Blondie is a cutie. Great wallpaper in the background, too.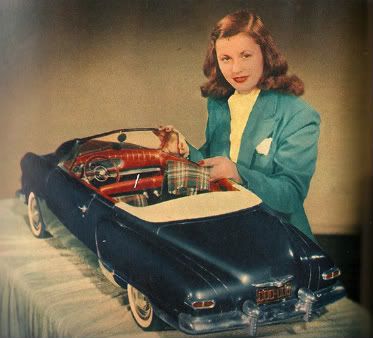 I am loving this classic look; the mini-car, the tartan plaid and the blazer. Proof that red lips and nails make vintage menswear sexy, not stuffy.
Let's just say shawty can grab my headlight anytime!
Arrivaderci Bitches!
heart!
--m