Eeep! It's still a bit cold here in Oregon to be prancing about in swimwear. (April showers...) But a lady can fantasize about living near a perpetually warm beach, right? (click for larger view; titles indicate issue date)
They are both looking foxy, wouldn't you agree?
Sadly this is how the image was originally cropped. Wtf?
This
is how it's done, eh?
Mecanix Illustrated had these photo-contests every month. Seems like the entry with the most scantily clad woman tended to win most often. I suppose the contrast of knitted swimsuit against skin
is
visually stunning...
What a gorgeous Lauren Bacall/Veronica Lake lookalike! The photographer probably kept the matress as a perverted memento. Not that I blame him necessarily.
This reminds me quite a bit of the cover of the original Little Mermaid video. the more you look, the more subtle clues to wieners there are.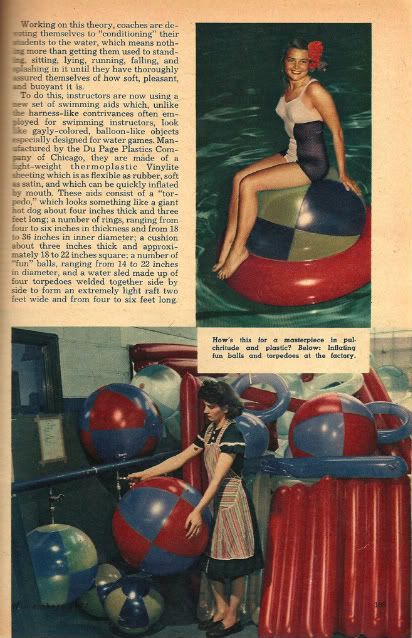 So pretty, especially the top left pin up. I love old school colored photographs, plus she exudes innocence.
Well, they may aspire to odd things, but these ladies do so stylishly. Far more so than the crew of MTV's
Jackass
wouldn't you say? I love how swimsuit bottoms of the era had that little faux mini-skirt situation happening.
That's all for today, but new outfits posted later this week!
Be sure and check out the new link to my Etsy shop now in the sidebar!
Thanks for joining me once more,
heart
--m